Opening and closing times may change throughout the season. For the most up to date information view our Hours of Operation page.
Paper trail maps will be available in-resort upon request.
Trail Map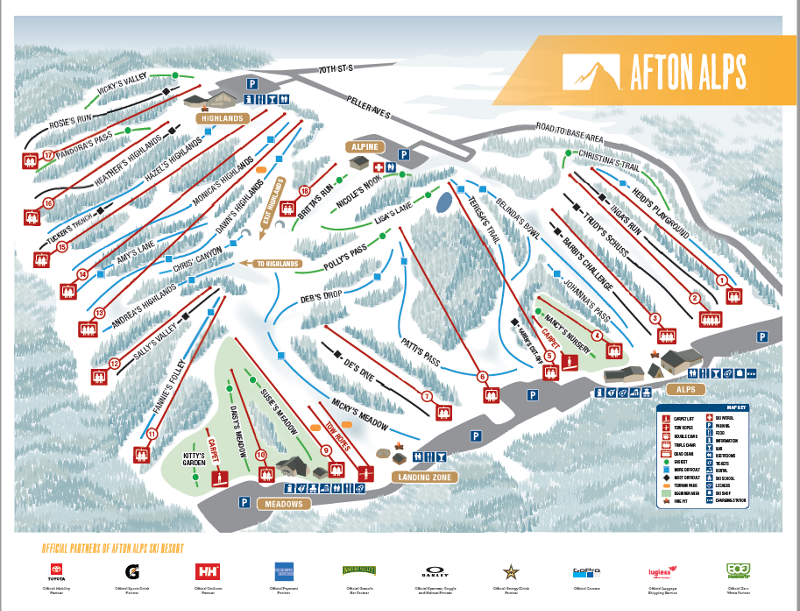 View Map

, opens in a new window
Season Long Locker Rentals
Season Long Locker Rentals
We will be placing our season long locker rental on sale beginning in Mid-October.
Email to Learn More
Afton Alps Parking
There are various areas to park at Afton Alps and it really depends on where you want to launch from. Up top there is the Highlands and Alpine which is great easy access to the slopes for passholders! Down at the base there is the Alps, LZ and Meadows area. - Propane heaters and grills are not allowed on premise.
PARKING UP TOP
Highlands
The Highlands is the first chalet and parking area you will see on your right after entering the resort and taking your first left at the State Park entrance. Here you can park, pick-up your ticket, grab lunch or a drink and hit the slopes with ease. The only thing you can't do is get rental equipment.
Alpine
You may enter the Highlands area and take the first left to enter the Alpine area. Guests can hit the slopes from here and when open, there are restrooms, tables/seating and our ski patrol headquarters. On select weekends there is ticket sales, passes, and rentals.
PARKING AT BASE
Alps
After passing the Highlands and Alpine, take a left at the entrance gate where you'll see an orange snow cat to your right. Then proceed slowly to the bottom of the hill. The first parking area is at the bottom of our race hills and near the Alps Village area. In the village, you will find a cafeteria, Paul's Pub, Office, Rental, Retail and at the far end, Guest Services.
If you drive past the first Alps parking area, and go up and over you will come to the other Alps parking area. This is the closest to our main Guest Services location, it is the silver building on the corner. Here you can purchase or pick-up your ticket, pass, hear about daily happenings and events or plan your next trip out West. Parking here you are the nearest to the Bunny Hill, Rentals, Office and Guest Services (tickets/passes/information).
LZ
Continuing through the middle Alps parking lot and heading further South you will come to the LZ. This parking area is located in the Landing Zone by the terrain park. Here you will find a fire pit, restrooms, and take out food and beverages on the weekends. There is no ticket pick-up, rental or ski school located in this area.
Meadows
Passing the LZ and heading to the farthest end of the resort you will arrive in the Meadows parking lot. Guest Services, Ski School and Rental is located in this area but there is currently no food & beverage served at this outlet for the 2021-22 season.
Mountain Stats
Elevations: Base Area 350 ft, Summit 700 ft, Total Vertical Rise 350 ft • Skiable Acres: 300 • Snowmaking Coverage: 100% • Lifts: 17 Aerial Lifts, 4 Surface Lifts • Total Uphill Capacity per hour: 19,730 • Trail Classification: 25% Beginner, 50% Intermediate, 25% Advanced
---

Guest Services Facility
The guest services facility is where guests can purchase and pick-up their tickets, find out more information on season passes, hear about all the resort specials, daily happenings or have questions answered, in a warm welcoming environment.
Looking to continue your adventure? Let one of our guest service team members help you plan your next trip to visit one of our sister resorts!
Afton Alps Guest Services
Did you lose something at Afton Alps?
Fill out our Lost & Found form so we can help you find what you're looking for!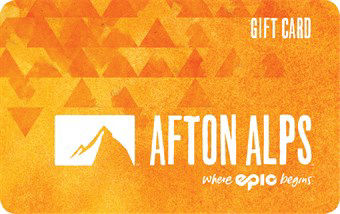 Give the gift of snow!
Gift Cards
Order your gift card over the phone at 651-436-5245 or via email to aftonalpsinfo@vailresorts.com, in any increment and we will mail it to the recipient, no charge, standard mail via the U.S. Postal system. (Cannot be used for online purchases)
Note: Gift cards are ONLY valid at Afton Alps
It's the mountain guide in your pocket, now with even more features:
Interactive trail maps, with trail and grooming status
Real-time weather, snow totals and mountain cams
Your on-mountain GPS location and stat tracking
Resort updates and safety information
And more!