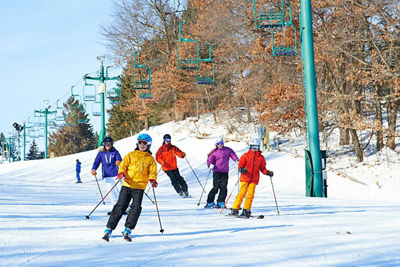 Know your ability level and stay within it. Observe "Your Responsibility Code"—listed below—and share the responsibility with others.
Stay in control.
People ahead have the right of way.
Stop in a safe place for you and others.
When starting downhill or merging, look uphill and yield.
Use devices to help prevent runaway equipment.
Observe signs and warnings, and keep off closed trails.
Know how to use the lifts safely.
SMOKING IN THE LIFT LINE IS PROHIBITED
Be advised that Afton Alps Ski Area does not mark all potential obstacles or hazards. When marked, poles, flags, fencing, signage, padding or other forms of marking are used to inform the skier/rider of the location of a potential obstacle or hazard. These markers are no guarantee of your safety. It is part of your responsibility under the Your Responsibility Code to avoid all obstacles and hazards.
Learn More